Creative Whiz Annie Heidenreich says her missions is to "make things look beautiful" at Frewville and Pasadena.
Annie is the visual merchandiser for Adelaide's finest supermarkets and the talented person behind many of the imaginative displays, arty installations and styling details which set Frewville and Pasadena apart from other supermarkets.

"I'm very fortunate to be in a job where I can do all the things I just love. I was essentially hired to make things beautiful," Annie says.
While props and styling can indeed make things look appealing, there's a lot more to visual merchandising.

"It's also about making sure that traffic stops in the right place to buy things," she says. "Yes, it's a supermarket and you know the aisle you need to get your milk but for me there's also an element of enjoying the actual experience of going shopping.
"Primarily my goal is to make shopping something that you really enjoy."

Annie says Frewville and Pasadena are retail environments with a difference.

"Yes, it's a retail business so there is product in your face. But it's not in your face like it is the major supermarkets," she says
It's about making it an experience that you really love, and you feel emotion about it to get more involved with food and cooking."
Annie has worked at AFS for two years and her influence can be seen in various departments across the two stores.

"Some things I do, you don't even see. One of the first things I did was change all the crates in the fresh produce section from standard white to brown timber because the colour makes the fruit and veg pop," she says.

She helped design the Spicebar's eyecatching centrepiece at Pasadena with its clever cabinetry and scales suspended from the ceiling. Annie also looks after design details such as the locally-made ceramic plates she sourced from the Jam Factory for the Salumibar.

Just like a theatre set designer, Annie has a props room at Pasadena which is packed with everything from vintage crockery to garden gnomes, spray paints, tools, wooden crates and cane baskets.

She mainly uses these props to create her talking point window displays at Pasadena which change every three or four weeks.
"We try to keep them topical or interesting and they're great because they get people to talk," she says.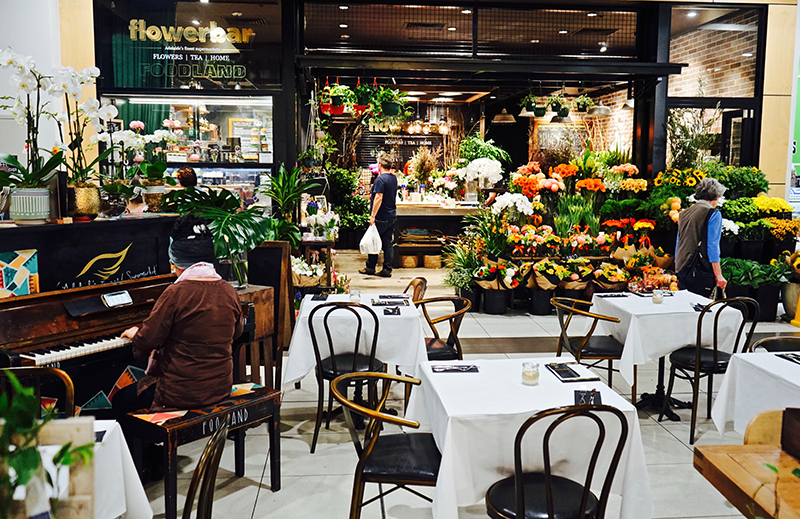 The window displays are art installations and feature themes you'd expect such as Easter or Mother's Day or other more whimsical themes from coffee to citrus or eco washing products.

"I loved my butcher-themed widow which featured framed pictures of meat. Some people said 'oh, that's quite gorgeous'" Annie says.

"Ideally I want them to look and say 'that's beautiful' or 'that makes me think' or 'I haven't seen that product before'".

Annie studied interior decorating, worked as a kitchen designer for five years, was studio manager for a well-known Adelaide home builder and also studied visual merchandising at TAFE.

"I don't know if there's another visual merchandiser in grocery in SA so that makes my job really quite unique. I just think that I'm really lucky to be here," she says.