Spring sunshine brings cravings for the best Aussie shellfish from sea-fresh local oysters to plump, tender scallops.
Oceanicbar at Pasadena is the destination for sustainably-sourced shellfish which can be enjoyed in store with a glass of SA wine or craft gin cocktail. The shopping can wait!

The Oceanicbar serves Smoky Bay oysters harvested by James Boylan on the Eyre Peninsula which are known for their balanced seaweed sweetness and salty zing, with a long lingering aftertaste.

Orlando Bagnara at Oceanicbar serves the oysters in a variety of ways from natural to the classic Kilpatrick and a menu of restaurantquality creations. This spring, try Orlando's Mister Miyagi oyster with Japanese-inspired flavours – and an array of textures – blending to create a sea-fresh, sweet, punchy and spicy experience.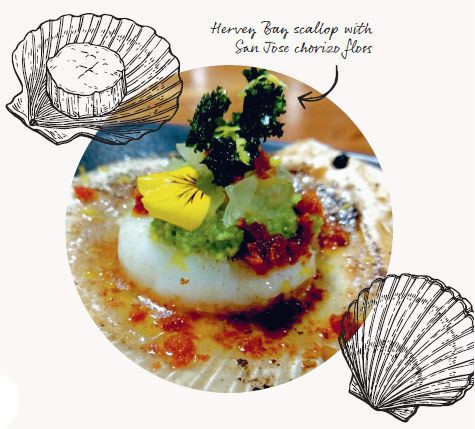 The oyster is enhanced by just the right amounts of wasabi olive oil, sweet ginger vinegar, tobiko caviar (flying fish roe), wasabi mayo, a sprinkling of shichimi togarashi (Japanese seven-spice seasoning) and is finished with Orlando's own black squid ink tapioca cracker.

Look out for Smoky Bay's jumbo oysters which are big, meaty delights and are 4 to 5 years in age (limited availability).

Oceanicbar also puts the spotlight on the famous Hervey Bay scallops from Queensland which are served grilled in the shell. Orlando has a new scallop on the menu with a spring-inspired pea and mint pesto, locally-sourced aged San Jose chorizo floss, Peninsula Larder lemon and black pepper flavoured pearls, crispy kale and a sliver of preserved lemon rind.
New Product
Orlando loves adding intense little bursts of flavour to his shellfish creations by using Peninsula Larder's Australian-made flavour pearls.

The gourmet garnish pearls (gluten free, dairy free and vegan) are available in flavours such as shallot and white balsamic vinegar; truffled honey; lemon and black pepper; tangerine; yuzu (Japanese lime); ginger and sansho pepper and lemon myrtle.

Foodland Pasadena and Frewville stock a great range of Peninsula Larder Flavour Pearls which you can find at both Cheesebars and Oceanicbar (Pasadena).
What is floss?
The chorizo floss Orlando uses for his spring scallop is made using San Jose Smallgoods' aged chorizo which is available at Salumibar (both stores).
"I dice the sausage and crisp it in the oven and then finely chop it. When preparing an order, I grill it for a quick minute or so before serving," Orlando says.