Many people think chilli has one simple purpose – to add heat – but this spice cupboard staple can do far more than add a red-hot kick to your cooking.
Spicebar manager Jueyenne Staltari from Pasadena Foodland says chilli can also be used to add mild, sweet, smoky, fruity, earthy or hot flavours to any dish.

She says Spicebar has a comprehensive range of ground chillies from around the globe including Aleppo, Habanero, Chipotle, Poblano, Guajillo and Kashmiri varieties which all have varying flavours and heat levels.
"There really is a chilli to suit any recipe, you just need to experiment to get the right one for your cooking or for your own palate and we are happy to offer advice," she says.
The fragrant Spicebar has more than 160 spices from around the world including chilli varieties and chilli-based spice blends.
Self-serve, bulk containers make it possible for home cooks to buy as much or as little chilli as they need.

"Chilli, like all spice, loses its aroma, colour and flavour potency over time so we recommend buying smaller amounts and more often," Jueyenne says.

"If someone wants just 10 grams of a particular chilli to experiment with, they can have it, so you buy what you need and you don't have to waste anything."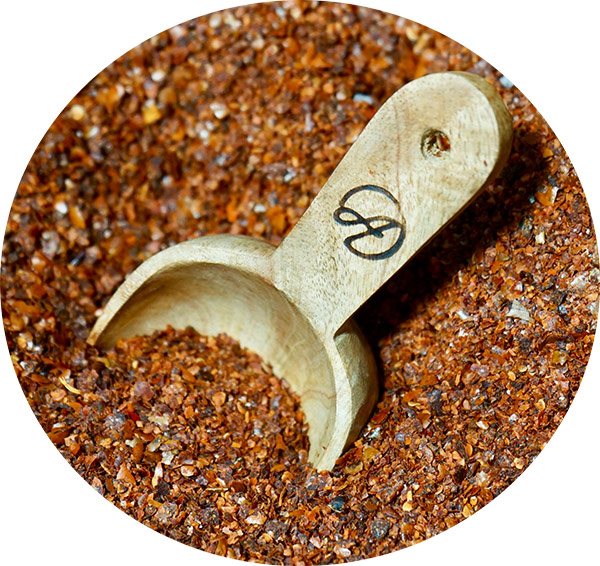 Five chilli powders from Spicebar to add colour, flavour and heat to your spring cooking.
CHIPOTLE: A Mexican smoke-dried jalapeño. Ground chipotle has a rich,
smoky, meaty flavour, Add to soups and stews or sprinkle over roasted vegetables, add to scrambled eggs or mashed potato.
GUAJILLO: Ground Mexican guajillo (pronounced gwa-hee-yoh) chillies have a mild, fruity, smoky, tangy heat. Jueyenne says they're great for chilli con carne or added to chocolate brownies.
ANCHO: Ancho is the name for ground dried poblano chillies from Mexico. Ancho is slightly smoky, mild and sweet with nuances of coffee and raisins. Great for barbecued meats or use it to glaze salmon with a teaspoon of ancho powder and some raw honey before pan frying.
KASHMIRI: Kashmiri are very mild chillies from India with a vibrant red colour. Kashmiri powders adds a beautiful hue to dishes but not a lot of heat or flavour. The powder adds a mild, fruity little kick to a homemade chicken tikka masala or tandoori chicken.
ALEPPO: This chilli from Turkey has a warm, fruity flavour and mild smoky heat. It can be sprinkled on pizzas and pasta or eggs or used as a rub for steaks.