Nutrition enthusiast Rachael Pasta and the team from the Blue Zone Wellbeing Kitchen have access to arguably the biggest and best range of health food ingredients in Adelaide.
The healthy-eating hub at Foodland Pasadena is constantly evolving and is a super foods mecca with smoothie bowls, chia seed puddings, freshly-cut fruits, juices, coconut fruit bowls, soup, salads and more to come.

"We want to make it easy for people be able to nourish their bodies and eat well and we have everything at our fingertips, right here in the store," Rachael says.

"We also have the best organic produce in the State and we need to promote it."

The Blue Zone Kitchen's winter soups are still being served as we transition from winter into spring and include a traditional Greek lentil soup called fakes which is served with a choice of Mr Nick's sourdough or gluten-free bread from the in-house wood oven.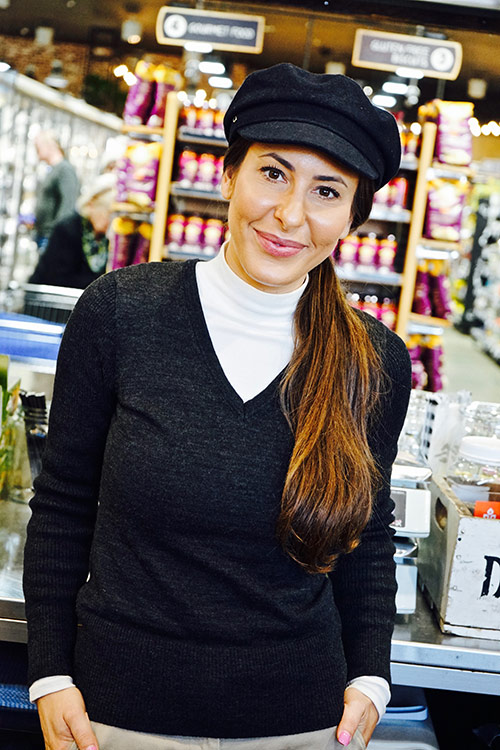 Rachael is a big fan of robust, healthy bowl foods including a breakfast favourite, Mr Nick's warm porridge. It's made with Bob's Red Mill organic oats (available to buy in store) topped with antioxidant-filled fresh berries, turmeric, dried pears, mixed seeds, organic apples and almond milk.

Fuel up on a mango nourish smoothie bowl with mango, berries, banana, oats and granola or colourful, refreshing supergreens or immunity boost smoothies.
Super food hot drinks on offer range from hot cacao to matcha, charcoal and turmeric lattes while freshly-squeezed juices include the Spring Kick made with orange, carrot, ginger, mint, and pineapple.

Inspiration for the name Blue Zone Wellbeing Kitchen comes from Ikaria, the Greek Island home of Nick Chapley (aka Mr Nick). Ikaria is one of those few Blue Zones in the world where people enjoy longer lives in good health.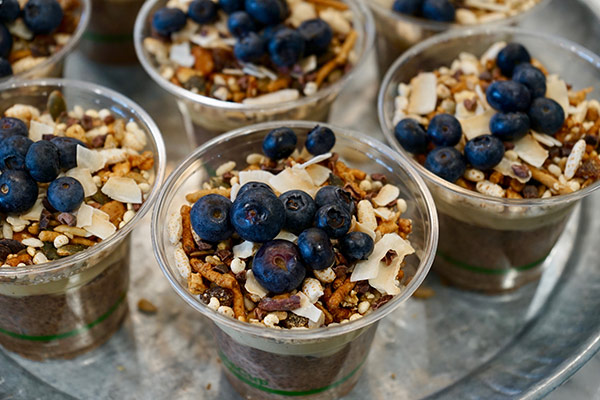 SUPER SMOOTH
Super foods include spirulina, maca powder, goji berries, turmeric, hemp and chia seeds. One of the latest super foods to join the list is collagen which is a naturally occurring protein found in large quantities in the body's connective tissues. It is also found in animal skins, bones and cartilage.

Devotees of collagen believe it promotes healthy hair, skin, nails and joints. The Blue Zone Wellbeing Kitchen is making smoothies using collagen protein powder, antioxidant-packed berries and other powerhouse fruits.

"Collagen is massive in the health industry at the moment so we're pretty excited to offer this very on-trend smoothie," Rachael Pasta says.
ALT-MILKS
Rachael Pasta shares some of her favourite dairy alternatives used at the Blue Zone Wellbeing Kitchen and available on the shelves at Frewville and Pasadena.

"We stock a wide variety of dairy from cow's milk to goat and even camel milk but we also like to offer a range of non-dairy alternatives," she says.

"It's great having access to so many brands of plant-based milks so we can experiment a bit. At the moment, I'm loving these three products".
Almo Almond Milk: Almo is a premium, clean-tasting and zero-waste long-life almond milk. The makers churn whole almonds into a butter and don't soak or sieve out the nuts, making a creamier, more nutritious and protein rich milk which is a real favourite with baristas. Almo is made with Australian almonds from a co-op of 140 growers in SA and Victoria. The almonds are not fumigated with PPO (propylene oxide) gas and are pesticide-free.
Bonsoy Soy Milk: A milk alternative which is made with certified organic golden soybeans and has high protein levels. The beans are cooked and finely ground with purified hot water and this process gives Bonsoy its mellow flavour.
It also has a smooth, silky texture. Bonsoy tastes great in coffee but also "stretches" like regular cow's milk so achieves a good frothy top. The vegan-friendly soy milk is free from cane sugar, dairy, egg and wheat.
Pureharvest Organic Coco Quench: This tasty dairy alternative combines filtered water, organic coconut milk, organic brown rice and sea salt. It has
a subtle coconut flavour as is slightly sweet and creamy. Coco Quench is made in Victoria and is organic and gluten, cholesterol and lactose-free. It makes a tasty hot chocolate and can be used in curries and soups as a lighter version coconut milk/cream.