Train commuters and city workers who shop at Flowerbar in the Adelaide Railway Station are doing more than simply buying beautiful blooms.
Flowerbar is a pop-up florist staffed by Youth Inc. students and has a focus on delivering high-quality flowers with minimal waste.

The real aim of this visionary social enterprise is to offer students paid work while they are studying at Youth Inc. This on-the-job learning also forms part of their SACE or VET requirements.

Youth Inc. students Jack, Jason, Janaya, Josh and Jess operate the pop-up from Monday to Friday, from 11am to 6pm, under the guidance of professional florist, Tessa Dominy.
"By shopping with us you are really supporting the blend of education and work opportunities for our awesome students," Tessa says.

The Flowerbar stall includes a variety of freshly-cut and creative flower arrangements, bouquets, plants and hand-designed cards and gifts.

Youth Inc. deputy principal Kelly Bunyon said students had helped manage every aspect of the business development and this work helped them complete a nationally-accredited Certificate III in Business.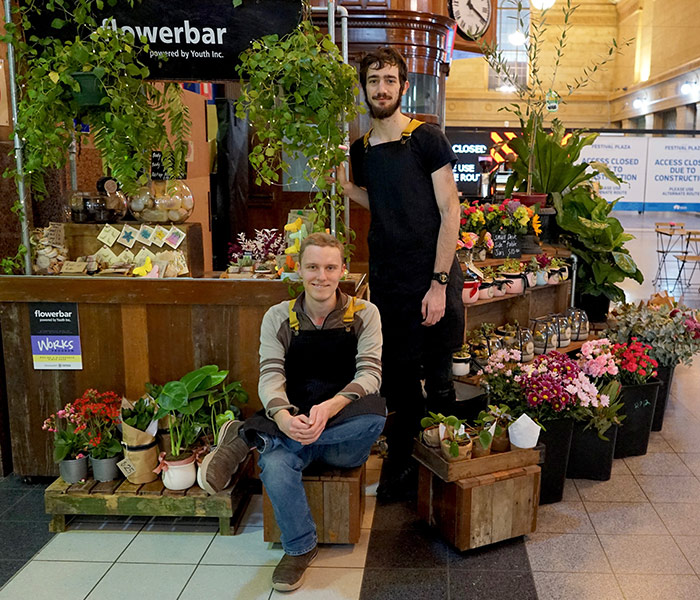 JOSH FORREST
"I came to Youth Inc. because I hoped to get into a stable job. Before Flowerbar, I only had volunteer work. I spent the last four and a half years with job searches and three TAFE courses but they didn't get me any work. I enjoy the Youth Inc. approach project-based learning. We work on a big project that covers the entire term, The Dream Project, which is basically something you always wanted to do.

It's the equivalent of a Year 12 research project and works towards the SACE. I want to get into horticulture, I'm interested in botanical things, so I'm planning on re-doing and re-designing the courtyard at Youth Inc. in Hindley St. Working here at Flowerbar is a good thing for me as I'd love to get a job at a nursery if someone is hiring."
JASON PRIDHAM
"Flowerbar serves a real purpose. Most of us have been stuck in that paradox of the unskilled job seeker – you need experience to get work but you need the work to get that experience.

I've enjoyed my time at Youth Inc. and have just finished the Dream Project. I found an old electric guitar in the basement and I repaired and modified it with wiring, soldering, strings, the whole thing. I enjoy learning about how things work, I've got a real interest in that hands-on work, so I'm hoping I'll get a job eventually where I can use these skills."
Youth Inc is an innovative studio school based in the heart of Adelaide's CBD. It is a place for young people who are ready for a change. Maybe they left school early, maybe they tried something else that didn't work out, maybe they just haven't found their 'thing' yet.

One thing that is for sure is that everyone has potential. The learning team does things differently at Youth Inc. and its motto is "different smart". Youth Inc's teaching staff supports students to develop the mindset, skills and positive sense of identity that will help them get where they want to go.

Students get involved in projectbased learning with hands on, immersive and real-world learning opportunities.
youthinc.org.au