Micro Greens with maximum benefits
Chris Nuss from Little Bunyip Farm in the Clare Valley says microgreens are far more than a pretty garnish.

"Restaurants have moved micro greens into our consciousness by using them as a garnish but they are actually a nutrient-rich ingredient in themselves and pack a flavour punch," he says.

Chris with his partner Ella organically grow Little Bunyip microgreens in soil at their Watervale farm. The fresh, tasty microgreen mixes are available in the fresh produce sections at Foodland Frewville and Pasadena.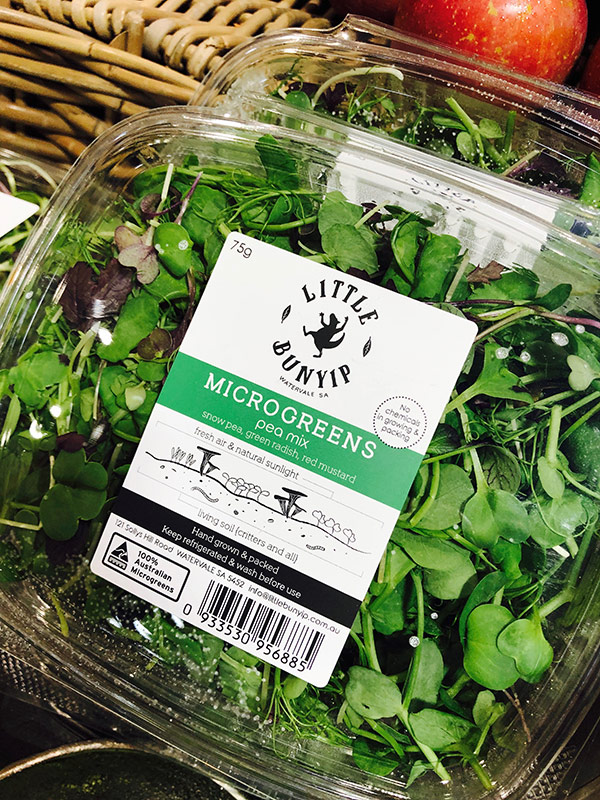 The couple met in Alice Springs in 2008 when they started a co-op to run a date orchard and later decided to start their own farm.

They moved to South Australia, where Ella's family was living, and began thei small-scale farming venture in 2015. "We really loved farming and were complete
newbies," Chris says.
The former electrician studied an online course from Canada about micro greens, learnt the basics and got Little Bunyip up and running. "Every year since then we have been increasing and we now have 15 varieties of microgreens," he says.

The micro greens, which don't use much water to grow, take up only 100 square metres of Little Bunyip's 48-acre farm which Chris and Ella plan to develop.
"Both of us are inspired by the idea of regenerative farming – connecting growing food with improving the land so it can support people and other life forms," Chris says.
"I've been interested in permaculture for many years, the idea of caring for the land while producing sustainable foods."
Pick Your Mix
LITTLE BUNYIP SUNSHINE MIX
A combo of sunflower shoots, red and green radish. Sunflower shoots are big, light green and tender – they have a mild and nutty, earthy flavour – combined with deep green and purple-red radish. This salad mix is great as a side to a hearty meal which needs a hit of something crisp and fresh. Serve cold.

LITTLE BUNYIP SPICY MIX
A mix of green and red radish, rocket and red and green mustard with a nice bite and good flavour. It adds a nice punchy flavour on top of fetta and fresh tomato on a cracker. Or give some kick to a cheese and tomato sandwich.

LITTLE BUNYIP PEA MIX
Snow pea tendrils grown in soil and harvested young are so much tastier than a standard pea shoot. Pea shoots mixed with green radish and red mustard are delicious raw as a salad but can also be served wilted alongside poached eggs. Or use to finish a bowl of miso soup.