Some classics never grow old.
Beef Wellington, which hit its culinary heights in the 70s, remains the ultimate British showstopper dish. The winter-themed luxury roast consists of a beef fillet coated in a pâté and duxelles (finely chopped mushroom mixture) wrapped in puff pastry, baked and then sliced to serve.
Beef Wellington is an impressive but time consuming dish to prepare and the trick is to get the pastry cooked through but with the meat still pink in the middle.

RETRO BEEF WELLINGTON RECIPE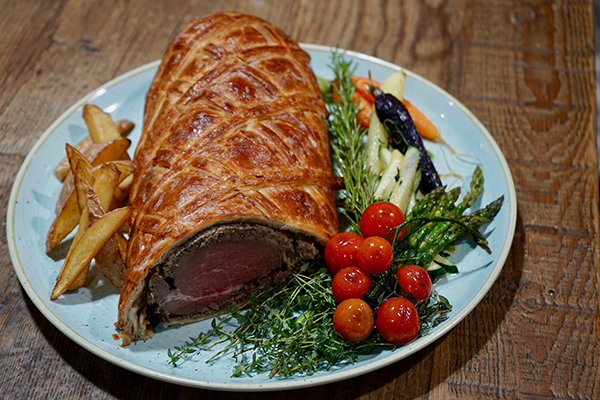 Ingredients

• 2kg Beef Fillet
• 250g Butter, Softened
• 1 Onion, Peeled And Diced
• 1 Cup Sliced Fresh Field Mushrooms
• 80g Black Truffle Paste
• Salt And Pepper, To Taste
• 500g Frozen Puff Pastry, Thawed
• 1 Egg Yolk, Beaten
• 1 1/2 Cups (300 Ml) Beef Stock
• 4 Tablespoons Red Wine
Method
Pre heat oven to 200C. Place beef in a baking dish and spread with 3 tablespoons softened butter. Bake for 10 minutes, or until browned. Remove from dish and allow to cool completely. Reserve the juices.
Melt 3 tablespoons butter in a frying pan over medium heat. Fry onion and mushrooms for 5 minutes. Remove from heat and let cool.
Mix together black truffle paste and remaining softened butter and season with salt and pepper.
Spread over beef. Top with onion and mushroom mixture.
Roll out the puff pastry dough and place beef in the centre. Roll up and seal all the edges making sure the seams are not too thick.
Place beef in a 23cm x 30-35cm baking dish or on a shallow oven tray, cut a few slits in the top of the dough and brush with egg yolk.
Bake in a hot oven for 10 minutes, then reduce heat to 200C for 18 minutes or until pastry is a rich, golden brown. Set aside and keep warm.
While the beef is cooking, place all reserved juices in a small saucepan over high heat with beef stock and red wine and boil for 10 minutes, or until slightly reduced. Strain and serve with thickly sliced beef.