Oxtail was once written off as a cheap, chewy or fatty cut but in recent years it has made a comeback as we recognise the potential of these so-called secondary meat cuts.

Chef Salvatore Pepe puts oxtail centre stage in a hearty winter dish from Rome called coda alla vaccinara.

The peasant style dish has an interesting history. Its origins lie in Rome's Testaccio district where the slaughterhouses were located and the butchers were called "vaccinari". The butchers were often paid in offal which they would then sell on to the local trattorias where the cooks would create flavoursome dishes using these cheaper cuts.

Oxtail (the "coda" in the dish's name) is a fatty and tough cut of meat and it does need to be slow cooked at a low temperature to bring out the best flavour and texture. After braising for a few hours, it transforms into a flavoursome and meltingly tender meat.

Salvatore's recipe for coda alla vaccinara involves adding bitter cocoa, raisins, pine nuts and spices to add richness and complexity to the dish.
Coda Alla Vaccinara Roman Oxtail Stew Recipe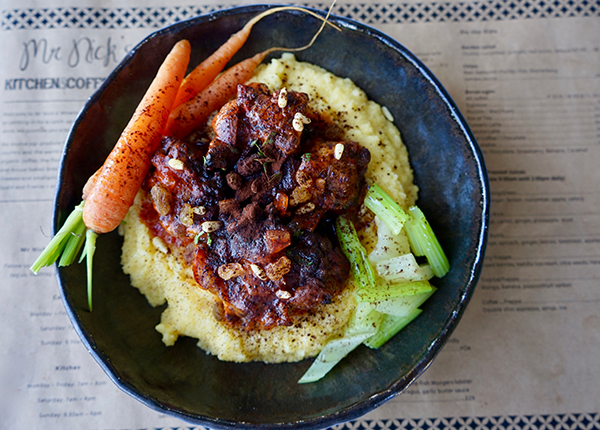 (Serves 4)
Ingredients
• 1.2 kg oxtail on the bone
• 2 celery sticks
• 2 carrots
• 2 small brown onions
• 300 g peeled tomatoes
• 2 bay leaves
• 2 glasses white wine
• Plain or corn flour
• Olive oil
• Salt to taste
• 1 tblsp pine nuts
• 1 tblsp sultanas
• 1 tspn dark cocoa
Method
Chop the carrots, celery and onions into small cubes and fry with a little oil over medium heat for about 6 minutes until softened.
Add the tomato, wine and bay leaves. Transfer to baking tray. Meanwhile dust the oxtail in the flour and fry in oil on low heat for a minute each side.
Add to the tray, sprinkle over the cocoa, sultanas and pine nuts. Season with salt and cover the tray with baking paper and alfoil tightly.
Place in the oven at 170C for about 2.5 hours or until tender.
Serve with mashed potatoes or soft polenta.
WINE MATCH
2017 Pike & Joyce Pinot Noir
(Adelaide Hills)


No worries that you can almost see through most Pinot wines. Colour ain't power. Pinot Noir is so beloved as almost an all-rounder red for dishes deep and dark and light, or light and lively, because it has this internal power that copes with the feel and textures of a dish, but also lifts things up with Pinot's natural zip.
This lovely Burgundy-styled wine from the Adelaide Hills has all the complexity to handle a braise of oxtail, even here with the complications and slight sweetness added by the presence of chocolate and sultanas, as it's also a red that's light on its feet, with a lively and savoury finish.