Spring cooking awakens your tastebuds after winter's heavy, rich foods. It's the time when we crave lighter, brighter, fresh flavours and this also applies to seasonal baking.
Chef Camillo Crugnale says his favourite springtime cake is a very pretty creation made with locally-grown pistachios and almonds, seasonal citrus and fruity, floral flavours.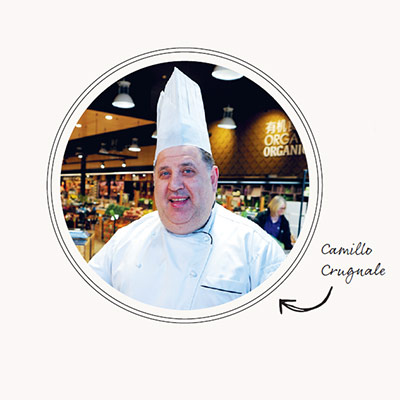 "I love baking this cake as a gift for my loved ones, particularly my mum, wife and daughter," Camillo says. "It's not a difficult cake to make but it looks impressive and perfect for spring with fresh rose petals and pistachios scattered on top".
All the ingredients including nuts, fruit, spices, dairy, dry goods and flowers are available in store at Frewville and Pasadena Foodland.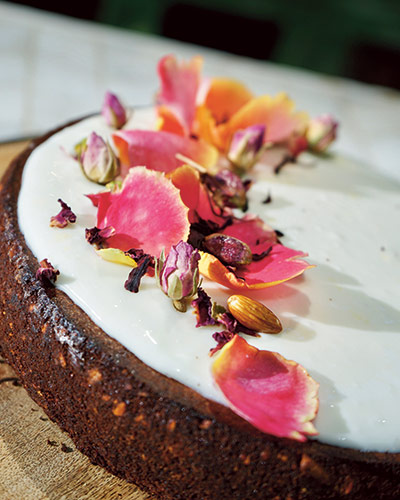 Pistachio and Almond Nut Cake with Orange and Rose Goat Curd Frosting
(Serves 8)
Ingredients
• 100g softened unsalted butter, plus extra for greasing the tin
• Plain flour, for dusting
• 250g coconut sugar
• 200g almonds, very finely chopped
• 100g pistachio nuts, finely-chopped, plus extra, coarsely chopped to serve
• Seeds from 8 cardamom pods (1/2 tsp seeds), crushed with a mortar and pestle
• 5 eggs
• 5g orange zest
• 150g (1 1/4 cups) almond meal
• 1/2 tsp baking powder
• 150g strained plain yoghurt, well stirred
• 16 rose petals and 6 small roses, to serve

Orange and rose goat curd frosting:
• 100g (1/4 cup) pure icing sugar, sifted
• Juice of 1 orange
• Few drops of rosewater and orange flower essence
• 100g goat curd
Method
Butter and flour a 22cm diameter cake tin and line the base with baking paper. Preheat oven to 165C.
Beat room-temperature butter and coconut sugar in an electric mixer until pale (8 minutes). Stir in nuts and cardamom seeds then, on slow speed, add eggs one at a time, beating slowly and well after each egg. Fold in the almond meal, orange zest and baking powder, then fold in strained yoghurt.
Spoon batter into pre-prepared tin and bake until a skewer comes out clean, about 1 1/2 hours. Cool in tin 25 minutes.
Carefully turn out onto a platter, then invert onto a wire rack so the original top is facing up. Cool completely.
Meanwhile, for orange and rose goat curd frosting, combine the pure icing sugar, orange juice and rosewater and orange flower essence. Add the goat curd and fold in well.
Transfer cake to a plate, drizzle with icing. Serve topped with rose petals, roses and pistachio nuts.
WINE MATCH
Prosecco is the perfect spring tipple. The Italian sparkling white wine is light, fresh and vibrant which makes it ideal for Spring's brighter weather

The wine list at Mr Nick's at Frewvillle and Pasadena features La Prova Prosecco from winemaker Sam Scott who is based in the Adelaide Hills.

This refreshing, flavour-packed Prosecco displays all the hallmarks of citrus blossom, apple and melon with a chalky minerality.

Sam Scott has sourced great fruit from the King Valley and no shortcuts have been taken in the winemaking with a slow, cool ferment retaining great flavour and varietal character.